Hola Mingle Monday-ers!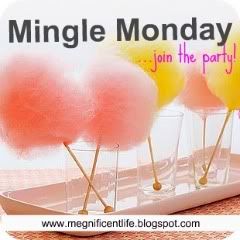 Thanks for stopping by. I'm in New Orleans for work all week, but God bless a hotel with free wi-fi!
I've been reading this book that tells me not to criticize. Very "judge, lest not ye be judged." I know the Bible said it first, so yes, I should have been doing this for quite sometime, but this book was the first time I felt really convicted of it. That and it seems absolutely IMPOSSIBLE to do. How do you not criticize? Correction, how do I not criticize? I criticize everyone and everything including myself. I'm really going to try though. It is true that I'm not perfect either so what right have I, but man, that is a tough call. Trying to replace critical thoughts with kind, understanding thoughts is going to take a lot. And not saying anything critical? An act of God. That's what that will take and that's what I'm praying for.
I'll let you know how it goes, but what about you? Are you a critical person or are you good at bestowing grace? And if so, any tips for me on how to do it?